Theatre
Gareth Jones returns to the theatre with a scorching political satire of the Brexit disaster It'll All Be Fine!  Set in the Downing Street cabinet room, it is modelled on Feydeau farce and loosely inspired by Gogol's A Government Inspector.
Born into a theatrical family, Gareth Jones' grandmother was the great comedy actress Athene Seyler, his step-grandfather the versatile Nicholas (Beau) Hannen.  His first memories are of laughter, grease paint and the smell of canvas flats.
His first roles were Bottom in his school's Midsummer Night's Dream, followed by more Shakespeare as a student at Cambridge:  Feste in  Twelfth Night, for which he composed and performed the music; Romeo in Romeo and Juliet;  Volumnia, the stern mother in Coriolanus; and Patroclus in Richard Cottrell's production of Troilus and Cressida at the Cambridge Arts Theatre.
Through a chance introduction he became a peripatetic visitor to Bernard-Marie Koltès's student theatre group in Strasbourg, a city that was to become his second home with friendships never lost.  Another inspiration was his step-cousin Ariane Mnouchkine, who had recently founded the Théâtre du Soleil at the Cartoucherie de Vincennes.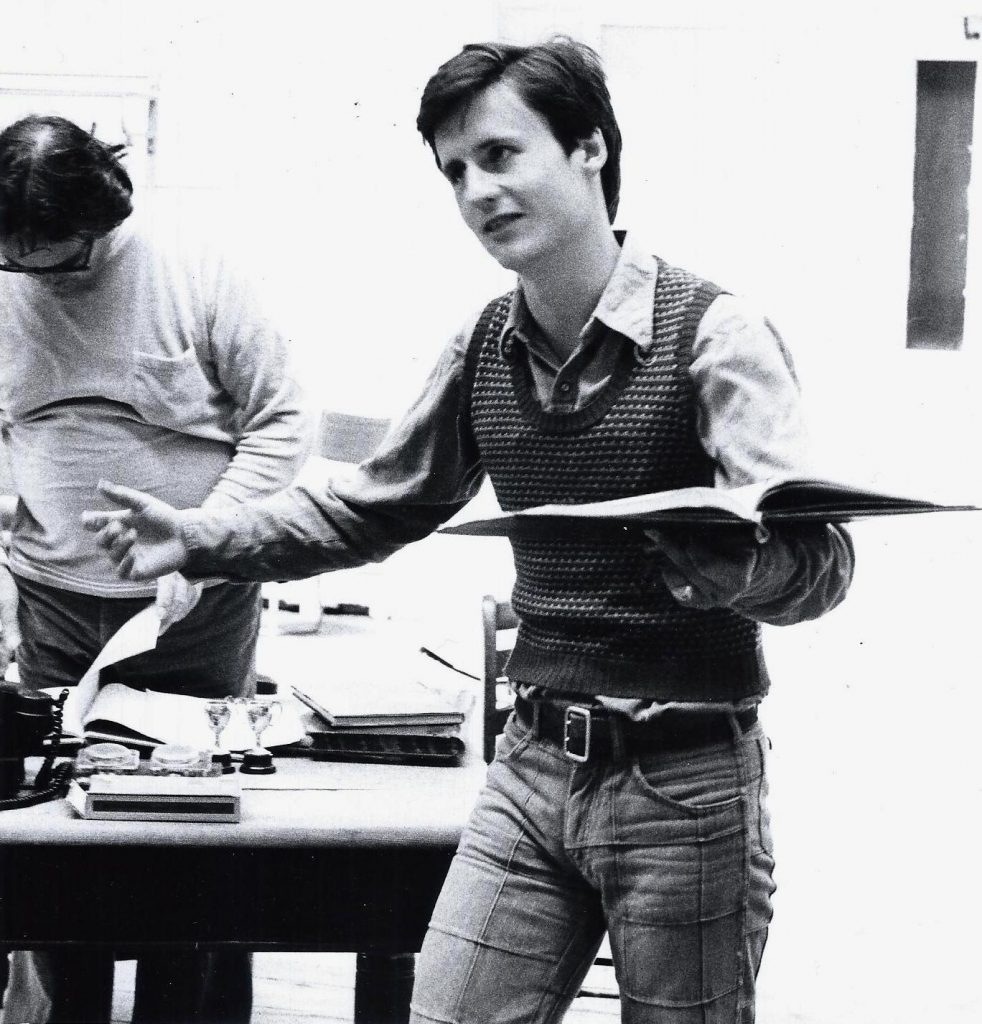 Settling on a post-graduate course at the Guildhall School of Music and Drama, he had already decided that directing was to be his métier and he was given a crucial break when Thames Television's Regional Theatre Young Director Scheme awarded him in 1974 a two-year secondment to the renowned Prospect Theatre Company, which was based in London and toured the country with high quality production of the classics.
Thrown in at the deep end, at the age of twenty-three he was assistant director to Kenny McBain's season of Henry IV Parts 1 & 2 and Henry V starring Timothy Dalton as Prince Hal.  Following a Shakespeare Histories medley Circle of Glory (in the manner of Joan Littlewood's Oh What a Lovely War!), which he devised together with Prospect's Artistic Director Toby Robertson, he set up a touring subsidiary Wider Circuit, for which he directed a double bill of Strindberg's tragedy Miss Julie and Chekhov's farce The Bear, both starring Isla Blair, Paul Moriarty and Pam St Clement, set in a basement vaulted kitchen and a black and white proscenium forestage respectively.
The success of this new venture led to a second tour, with Noël Coward's Private Lives featuring Terence Edmond, Ralph Bates, Rachel Herbert and Louise Jameson in a blend of twenties with seventies that had the audience in the palm of its hand.  By now he was becoming known as an adept at stage design and adventurous acting.
Following Prospect, Jones freelanced as a director at the Theatre Royal, York, with more Coward;  the Perth Theatre, for Joan Knight, where he directed a notable production of Neil Simon's Sunshine Boys starring Scotland's much-loved stand-up comedian Johnnie Beattie, which transferred for a successful run at the Theatre Royal, Glasgow; and the Swan Theatre, Worcester, where he directed a stylish vision of Sheridan's eighteenth century comedy of manners The Rivals. Around the same time he returned to London's Royal Court Theatre to assist Stuart Burge.
However, it was in his own home country Wales where Jones made his most notable contribution, first as Director of Productions of the bi-lingual Theatr yr Ymylon which specialized in new work in English and Welsh, then as dramaturg with the recently opened Theatr Clwyd in Mold.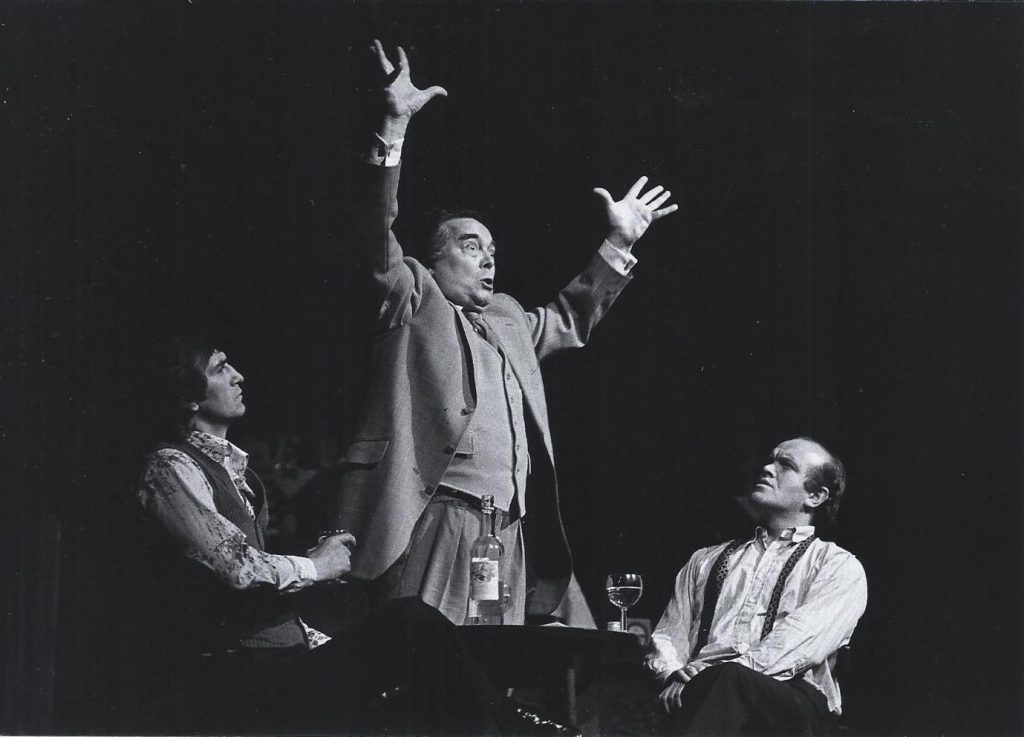 For Ymylon, he directed Gwyn Thomas's Testimonials, a story of small-town political corruption in the Welsh valleys, and his own play, the controversial My People, adapted from the satirical short stories of Caradoc Evans.
For Clwyd, he went on to write his contemporary play Solidarity, with Victoria Jones, based on actual events in Wales and elsewhere, a study of political intrigue and envy in the academic world. In the vigorous relationship that existed between theatre and radio (as well as television), Solidarity was jointly commissioned by Theatr Clwyd and BBC Radio 3 for its Radio Theatre Festival '81.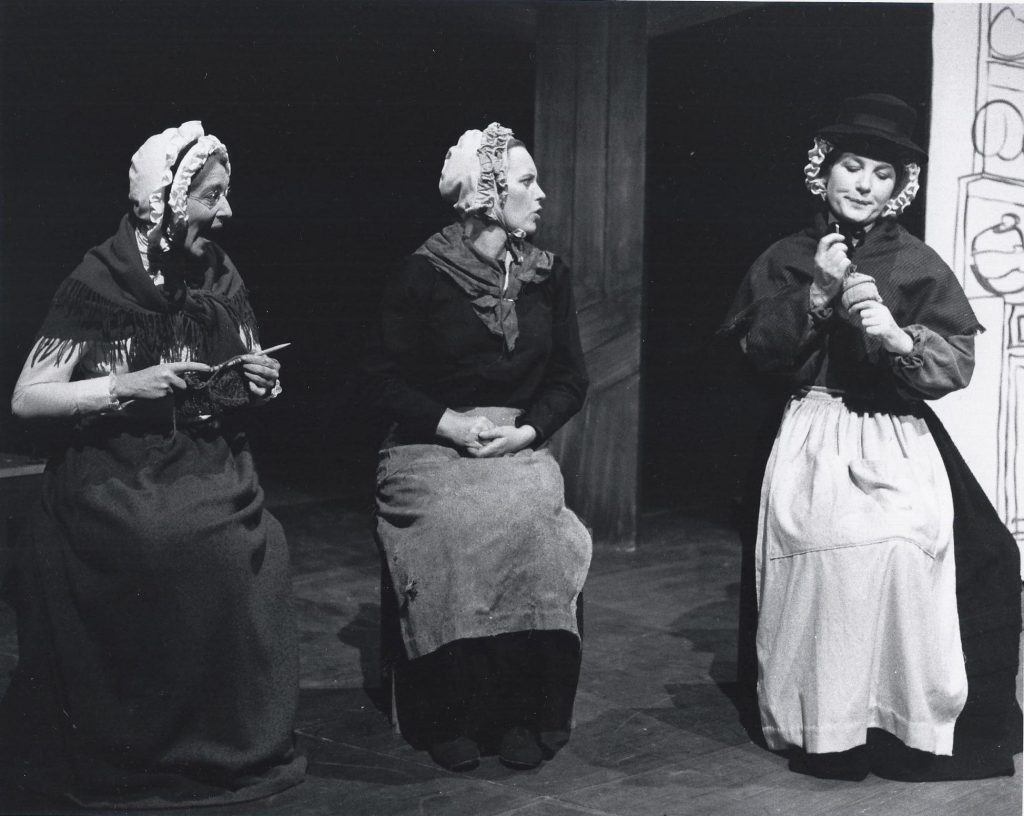 Both My People and Solidarity were designed by Peter Phillips, then Head of Design at BBC Wales, and both starred the young Ioan Meredith. In the course of his work Jones – still not yet thirty – advanced the careers of many actors and formed a de facto troupe of the best talent in Wales.
He went on to join the Welsh television channel HTV in 1981 where he trained in screen direction and then moved as a freelance to Granada.
However, the theatre has never quite left him.  Again in Strasbourg, he and Fiona Howe devised and performed in one day (in French) with choreographer Louis Ziegler a dramatic and musical meditation on the notorious encounter in Potsdam between the young Frederick of Prussia and the great Johann Sebastian Bach ('der alte Bach') which led to the creation of The Musical Offering – itself an improvisation, or not, as the performance itself enquired.
Jones played Frederick;  Ziegler danced Bach; and Howe performed the muse of the occasion on the flute, with the aid of a Silbermann organ and eighteenth century costumes delivered by the Théâtre National de Strasbourg (TNS).
Recalling the performance, Jones reminisces: 'Louis arrived that morning and had already sold the evening's tickets. We had nothing.  Only some research. And a flute.  I said impatiently: 'So how many are we?  How many actors?' and he stares at me blankly: 'Ah mais non Gareth, tu te trompes.  Les comédiens, c'est nous.'  I've never been so scared in all my life.  But it was actually quite good. The audience came, got involved, applauded.  It was like a rebirth.'