Delirium
Amidst the dreaming spires of a British university, an international composer struggles to deserve his reputation and seal his career with a modern Requiem, only to find it raises more ghosts and more strife than it lays to rest.
What Our Audiences Say
"…a beautiful film…uplifting…"
"…elegantly filmed drama, astute psychological observations…"
"…powerful use of music as both turbulent and redemptive force…"
"…a brilliant achievement…"
"…cellist Alisa Liubarskaya is an outstanding self-possessed presence…"
"…thank you for your wonderful film…"
"…loved the film, the music was fab…"
"…nice camera and music… it was great…"
Synopsis
International composer Peter Pilger faces the challenge of his life:
To deliver a Requiem for his former college St Jude's in time for the Memorial Celebrations while facing down revelations about his past and living up to his new authority as High Master.
Freighted in to lead his struggling alma mater through the rising tides of university fees, student unrest and political correctness, the wayward pop star turned composer neglects his reclusive wife and ungovernable teenage kids to turn upside down the institution he is meant to rescue.
But it is not from his misspent youth as an undergraduate at St Jude's and not from the modern student body that his biggest trial emerges, but from the kitchens, where a time bomb ticks amongst the migrant college staff in the dazzling cellist Anastasiya, who remembers more about him than he does.
His Requiem lays nothing to rest. Not his libido. Not even his conscience.
Filmed on location at the Founder's Building Royal Holloway (RHUL), Egham, Surrey.
Press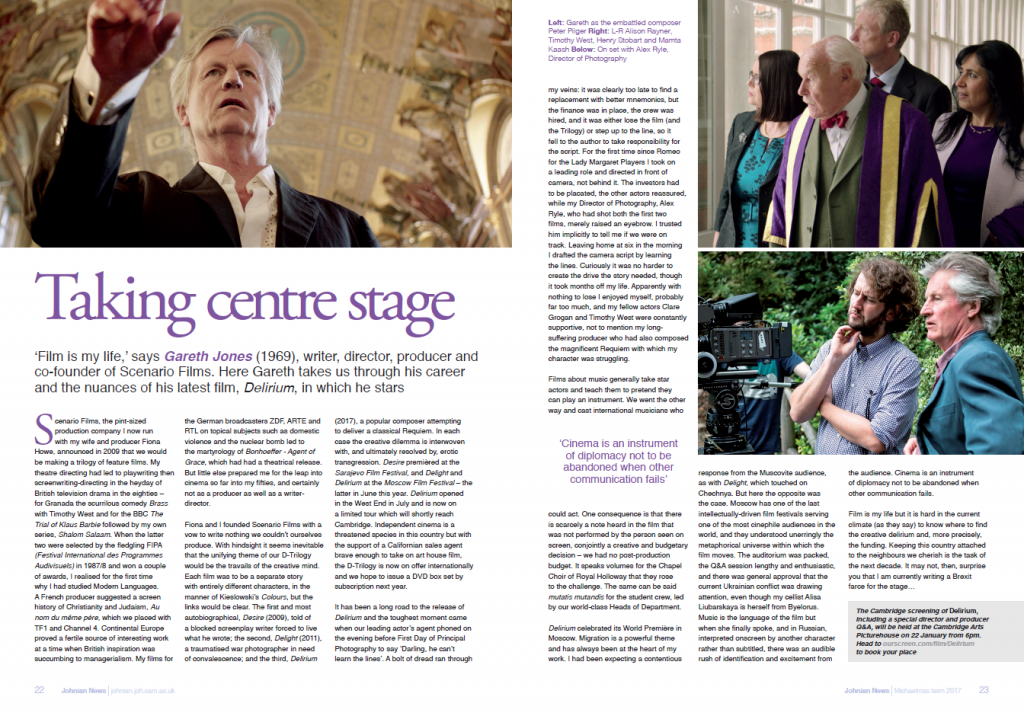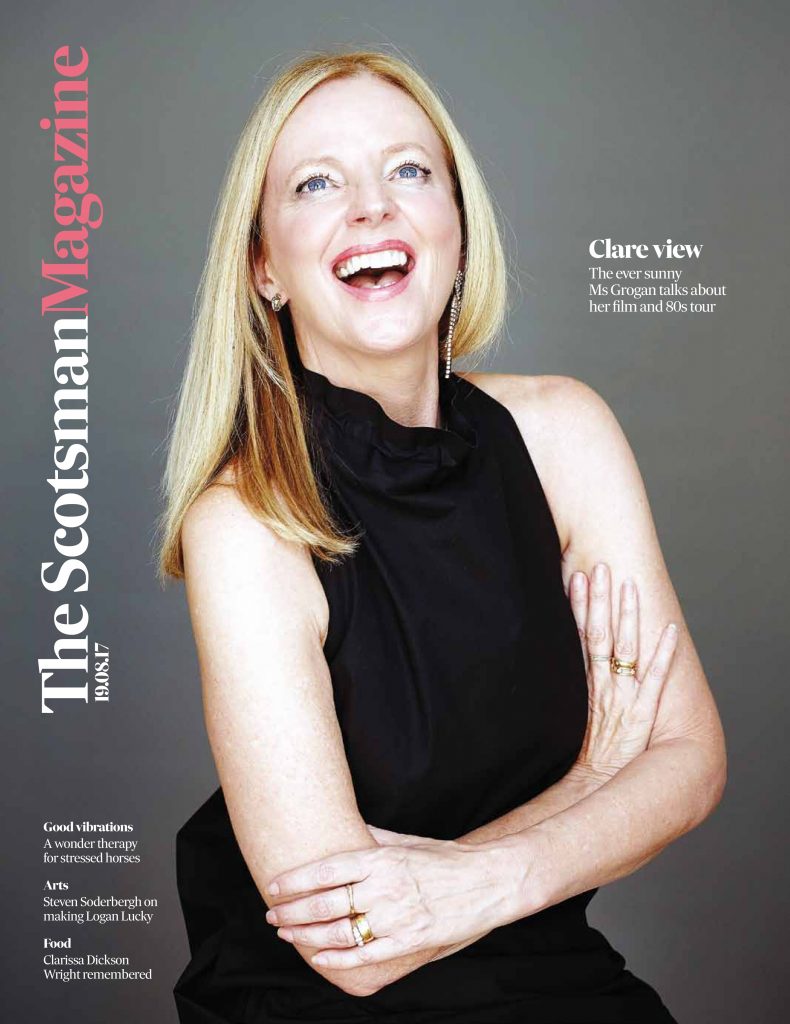 Clare Grogan Scotland on Sunday Magazine Cover
Clare Grogan Delirium – Scotland on Sunday Magazine Feature
Royal Holloway News – Delirium UK Première
Screen Daily: Gareth Jones' 'Delirium' begins shoot
Following its sucessful London première on 8th July, DELIRIUM is screening at selected cinemas across the UK during the summer and autumn, click here for all dates and venues.   Here's a Q&A taster from our recent screening at Chichester New Park:

.
World Première at Moscow Film Festival, 26th June 2017
DELIRIUM screened in the Official Selection of the 39th Moscow International Film Festival, the World Première of the film.
'Requiem' Soundtrack Release 10th April 2017
The 'Requiem for the Living' by Fiona Howe is now available on itunes and digital platforms worldwide.
Film details
Length/format: 100′ feature/Arri Amira/DCP
Genre: Love story
Script: Gareth Jones
Director: Gareth Jones
Producers: Fiona Howe, Simon Higman
Cast:  Gareth Jones, Clare Grogan, Alisa Liubarskaya, Timothy West, Mamta Kaash, Julian Gallant, Camilla Gregorovitch, Neville Dean, Alison Rayner, Henry Stobart, Pandora Jones, Raphael Jones, Tom Chippendale, Thomas Jencks
Featuring the Chapel Choir of Royal Holloway, University of London
Production Credits
Executive Producers:  Daniela Berghahn, Jonathan Powell, Gareth Jones
Associate Producers:  Alex Ryle, Mamta Kaash
Director of Photography: Alex Ryle
Sound Recordist:  Mustafa Bal
Music Composer:  Fiona Howe
Picture Editor:  Nadav Elovic
Sound Editor: Mustafa Bal
Costume Designer: Linda Haysman
Make-up Designer: Elizabeth Arklie
Director of Music:  Julian Gallant
Choirmaster:  Rupert Gough
Music Recording Engineer:  Wes Maebe
Colourist/Online Editor:  Malcolm Ellison
First Assistant Cameraman: Jason Wingrove
Gaffer: Jazz Bhalla
Head of Production: Emily Perrier
Production Executive:  Keith Buckman
1st Assistant Director:   Eleanor Lambert