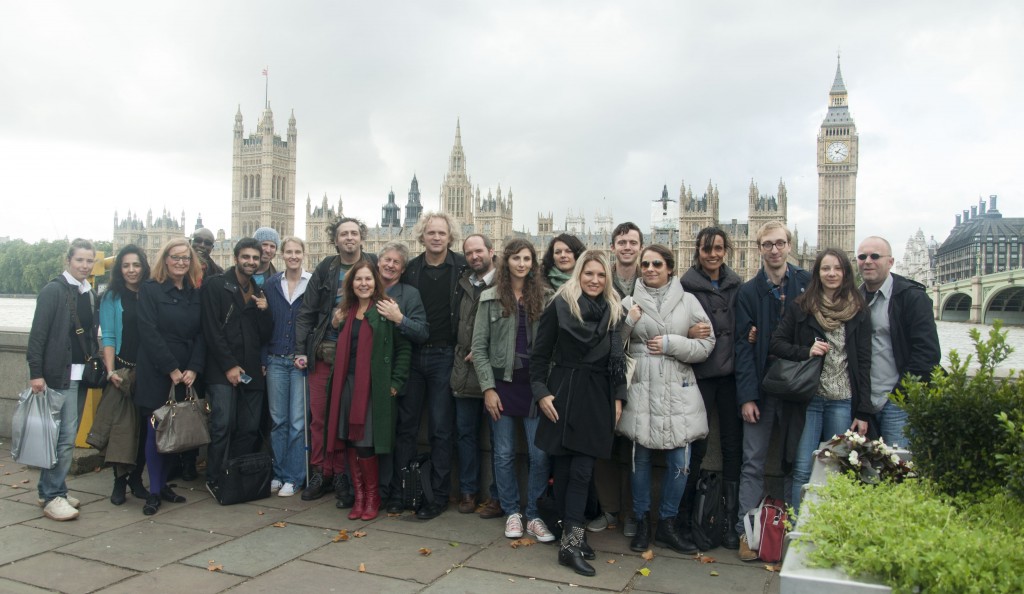 Photo Sonal Hansora 2013
The 7th Edition of the BABYLON Programme is underway with feature film development workshops already completed in the UK, Austria, Germany and Croatia.
Following regional pre-selection workshops in Zagreb, Stuttgart and Vienna, the selected feature film projects met in London for a first international session October 16th-19th during the BFI London Film Festival.
Selected filmmakers will meet again in Vienna (February 2014) to continue working together on their projects as part of a mentored programme that culminates in the third workshop at the Cannes Market (May 2014) and is focused on a combination of script development, production skills and market understanding.
BABYLON is proud to welcome partners MFG-Baden-Württemberg (Germany), Filmfonds Wien (Austria), HAVC (Croatia) and BABYLON founder-directors Scenario Films Ltd, London, in association with Witcraft/Diverse Geschichten, Vienna.
Mirroring the European Union's Danube Strategy, BABYLON is devoting its seventh annual edition to the Danube Crescent from the Black Forest to the Black Sea, exploring the varied inspirations and co-production possibilities that rise from one of Europe's greatest rivers.
The selected projects carry resonances from Germany through Slovakia, Austria and Hungary, to Serbia and Croatia.
BABYLON 2013-14 SELECTED PROJECTS
AUSTRIA
Project Title: IN DEN WESTEN/Into the West
Writer/Director: Alexandra Makarová
Project Title: KLANG DER FREIHEIT/Sound of Freedom
Writer/Director: Jasmina Hajdany
Project Title: SOFTER
Writer/Director: Dániel Béres
CROATIA
Project Title: A SOMEWHAT BETTER ENDING
Writer/Director: Marjan Alcevski
Producer: Siniša Juričić, Nukleus Film
Project Title: THE LOST ONES
Writer: Vivien Karlović
Director: Branko Istvancic
Producer: Irena Škorić, Artizana Films
Project Title: COUNTERATTACK
Writer/Director: Borut Šeparovic, Montažstroj
Co-writer/
Choreographer: Nataša Mihoci, Montažstroj
GERMANY
Project Title: GUGGENHEIM – LOVE AND BETRAYAL
Writer/Director: Sigrid Faltin, White Pepper Film
Project Title: SÜDWIND/Southern Wind
Writer/Director: Barbara Anticevic
Project Title: TAREKS LETZTE CHANCE/Tarek's Last Chance
Writer: Nicole Armbruster
Director/Writer: Dietmar Ratsch, Indi Film
Producer: Arek Gielnik, Indi Film
Project Title: DIE TRASSE/The Line
Writer: Joscha Douma
Producer: Rüdiger Heinze, Zum Goldenen Lamm Filmproduktion
UK
Project Title: BAD SEX
Writer/Director: Elsa O'Toole, We Can Films Ltd
Project Title: MEDITERRANEAN GIRL
Writer/Director: Julian Grass
Project Title: THE KING OF KINGS
Writer/Director: Armaan Kirmani, Colour Pictures
Project Title: FIBS
Writer/Director: James Sharpe
BABYLON aims to build a successful and diverse pool of film storytelling and talent; to promote and strengthen cultural diversity within the independent film sector; and to provide an international platform for emerging filmmakers.  Full details of the programme can be found on the Babylon Website